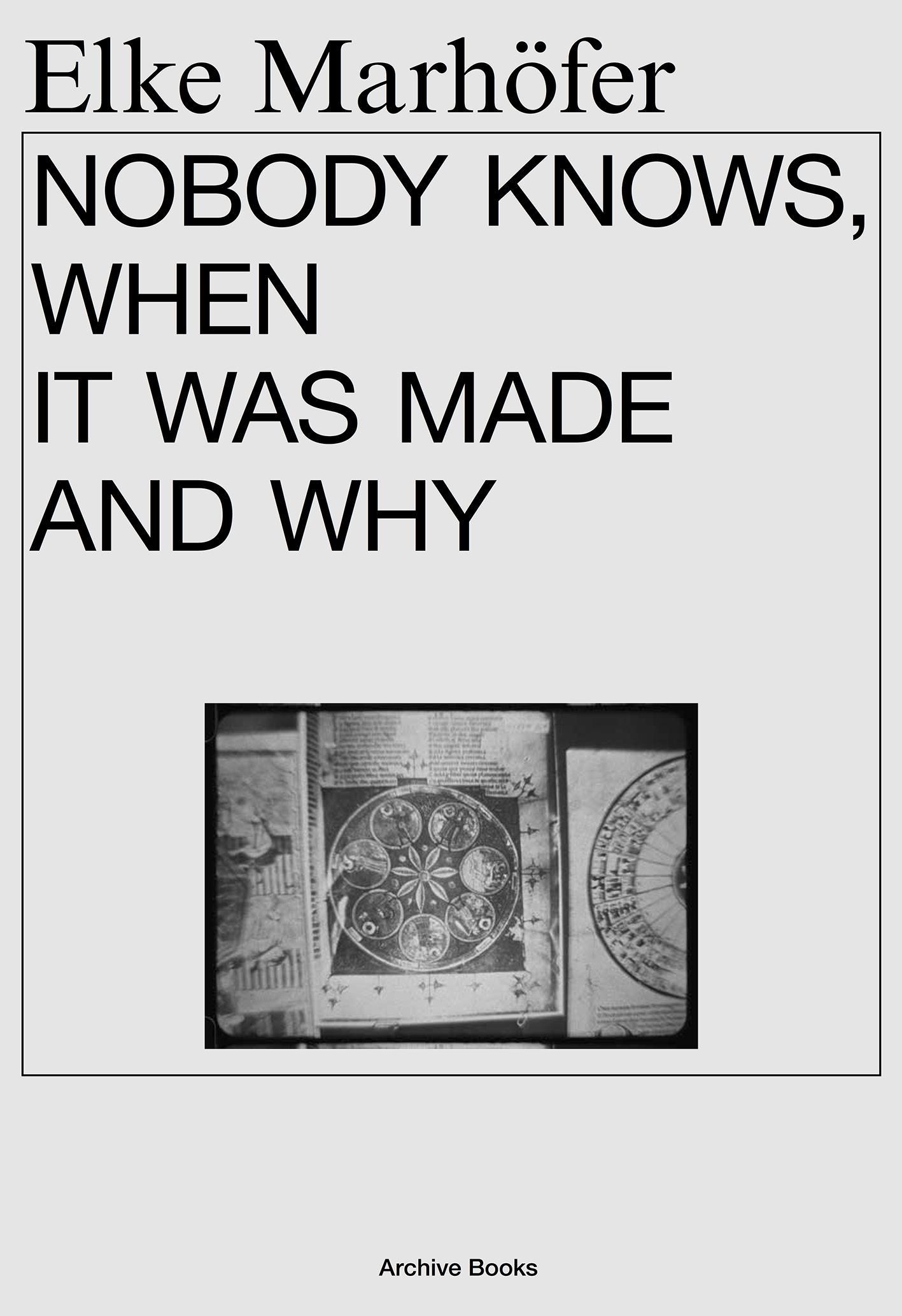 Nobody Knows, When it Was Made and Why takes a fresh look at Aby Warburg's prominent Mnemosyne Atlas. Reflecting on the fact that research, be it art or science based, is a historical and anthropological procedure that is closely related to colonialism, the film and the two essays rethink how Warburg creates a relational and trans-cultural methodology. Inhuman and animating forces of images, things, animals, people, minerals, amulets and dices, solar and lunar eclipses, intestines, magic stones and starry heavens stemming from Iran, Iraq, Syria and Jordan suggest exploring Mnemosyne Atlas outside of European cultural history and the imagination of itself.
With a text by Jiyoung Lee.
This publication is part of Elke Marhöfer's doctoral thesis Ecologies of Practices and Thinking at the Valand Academy, University of Gothenburg.
Elke Marhöfer is an artist living in Berlin. Via moving images and suppositious writing, Marhöfer works with notions of self-admitted foreignness and radical othering. She collaborates with dear friends and things, and revises notions of animal, vegetable and object relations. Marhöfer studied at the University of the Arts Berlin, the School of the Art Institute Chicago, the Whitney Independent Study Program New York, and is enrolled in a practice based PhD at the University of Gothenburg. She received fellowships from IASPIS Recidency Sweden, Akademie Schloss Solitude Stuttgart and Cité des Arts Paris. Her films have been screened at the BFI – British Film Institute London, Berlinale – Internationale Filmfestspiele Berlin, International Film Festival Rotterdam, Courtisane Festival Ghent, Cinematek Brussels, Images Festival Toronto, and the Showroom London. Her art exhibitions includes Palais de Tokyo Paris, FCAC Shanghai, Manufactura's Studio Wuhan, Museum für Gegenwartskunst Siegen, Houston Museum of Fine Arts and NGBK Berlin.
Feel like reading it on your
own electronic device?
Archive offers a 1 year subscription to many of its books' pdf-versions.
You will be able to easily download
and read them anywhere you want to.