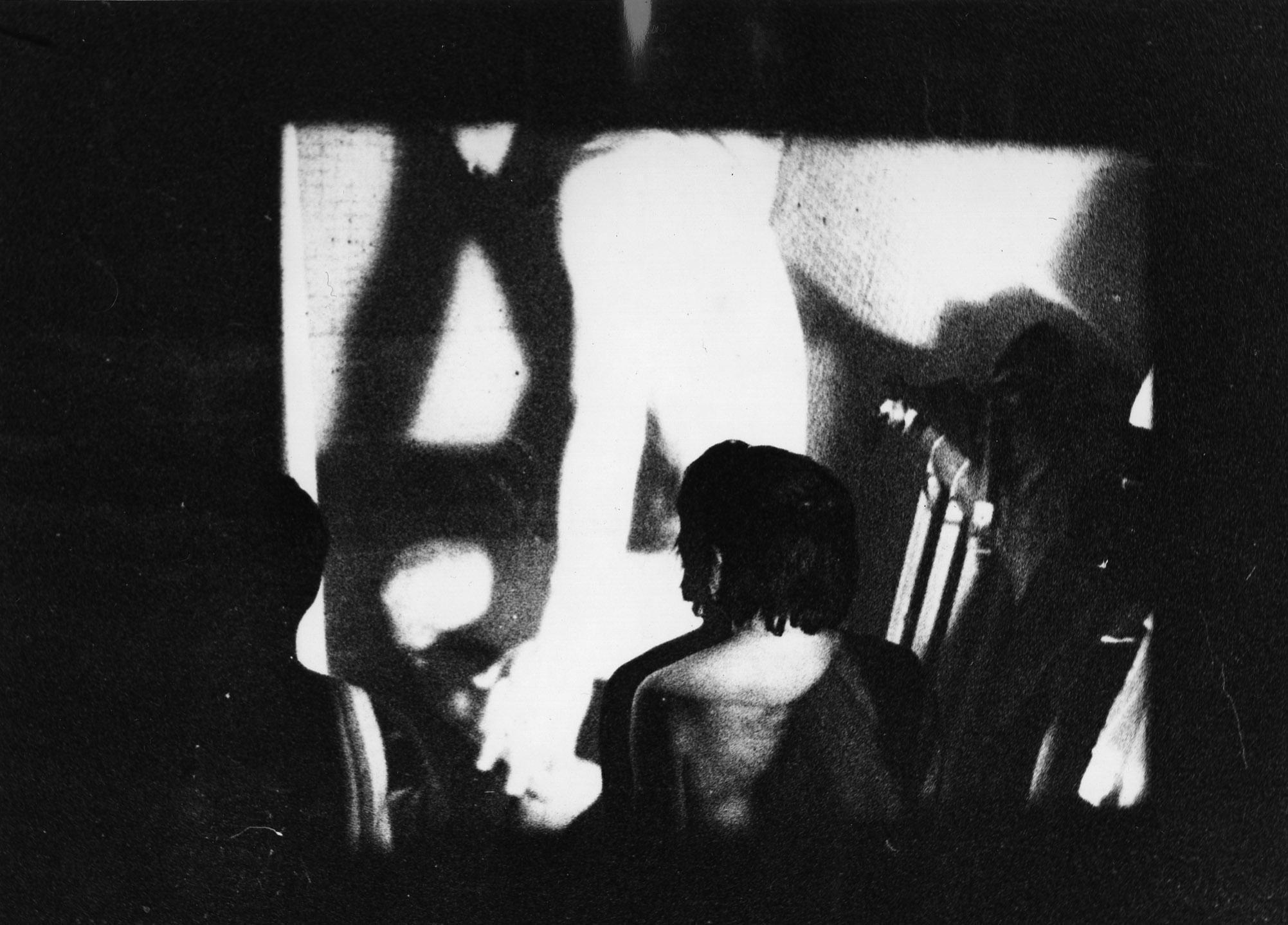 Jōnouchi Motoharu performance at Lunami Gallery, 1967, Photographer unkown. Collection of Namikawa Emiko
In Japan, the terms "expanded cinema" and "intermedia" were introduced, extensively discussed, and popularized, primarily in film and art journals, by filmmaker Iimura Takahiko, film and art critic Ishizaki Kōichirō film critics Kanesaka Kenji and Satō Jūshin, musician Tone Yasunao, filmmaker Matsumoto Toshio, designer Awazu Kiyoshi, and others. The universality, or distinctive and original character, of various interdisciplinary art activities such as rituals, happenings, events, festivals, Sōgō Geijutsu (Gesamtkunstwerk or the "total work of art"), anti-art, and environments was reexamined through the lens of these expanded cinema and intermedia categorizations. In the context of intermedia, the term first used by Fluxus artist Dick Higgins, the existing field of film was just one of many media, but in Japan, expanded cinema and intermedia were inextricably connected due in large part to the fact that the film world played a central role in introducing them to Japan.
In May 1967 at Lunami Gallery in Ginza, Tokyo, a seven-day event entitled "Intermedia" took place, and was divided into five sections: painting, happenings, expanded cinema, film, and symposium. It was planned by Ishizaki at the request of gallery owner Namikawa Emiko, and was an endeavor to expand the activities of Lunami Film Gallery, a series of experimental film screenings already being held at the same space. This was the first proj- ect in Japan labeled with the term "intermedia." The happenings section featured Tone, Kanesaka, and Miyuki Minako, the expand- ed cinema section filmmakers Adachi Masao, Jōnouchi Motoharu, Miyai Rikurō, Tomita Katsuhiro, and Ōbayashi Nobuhiko, the film section Iimura Takahiko, Donald Richie, Noda Shinkichi, and Yokoo Tadanori, and the painting section Ōnishi Seiji and Okabe Michio, among others. Ishizaki wrote "An Introduction for Intermedia" (Intermedia maesetsu) for the project's pamphlet, critiquing the conventional concept of the "sōgō" (total), which entails combining existing fields of art, and advocating the new potential of "intermedia." In addition, Kanesaka, critics Ishiko Junzō and Akatsuka Yukio, and co-organizer Satō each contributed short texts.
Incidentally, the concept of Sōgō Geijutsu was advocated in the 1950s by Hanada Kiyoteru and others endeavoring to synthesize multiple artistic disciplines, including film. The group Experimental Workshop (Jikken Kōbō), whose members were art- ists and critics working in a variety of disciplines including musicians Yuasa Jōji and Takemitsu Tōru, photographer Ōtsuji Kiyoji, critic Akiyama Kuniharu, and filmmaker Yamaguchi Katsuhiro, were at the forefront of this movement in both theory and practice. Then, in November 1966, thirty-eight artists and critics including art critics Takiguchi Shūzō and Tōno Yoshiaki, architect Isozaki Arata, musician Ichiyanagi Toshi, Yamaguchi, and Awazu gathered under the group name of Environment Society (Enbairamento no Kai) to hold the exhibition and event program From Space to Environment (Kūkan kara kankyō e, November 1966). Many of the group members were involved in Jikken Kōbō, but instead of the previous model of combining multiple disciplines, the concept of environment was placed front and center, and environmental art would form a bridge from synthesis (sōgō) to intermedia.
These new attempts lead to the activities at Lunami Gallery, followed by endeavors carried on in underground cine- mas, theaters, halls, galleries, and elsewhere. EX•POSE 1968: Say Something I'm Trying (EX • POSE 1968: Nanika ittekure, ima, sagasu), held in April 1968 at the Sōgetsu Art Center in collaboration with the journal Design Hihyō [Design criticism], was a seminal event incorporating expanded cinema, film screenings, slideshows, theater, music, poetry, improvisatory painting, happenings, psychedelic shows, symposia, and more, over five days. Meanwhile, in parallel with this loosely defined artistic movement, new spaces emerged in response to the psychedelic revolution, including discotheques, clubs, performance spaces, bars, and cafés such as L.S.D. and Angura Pop in Shinjuku, Killer Joe's in Ginza, and MUGEN and Space Capsule in Akasaka, which played an important role as new venues for staging screenings, light shows, happenings and more.
In January 1969 the Intermedia Arts Festival was held at Killer Joe's and Nikkei Hall, organized by former members of Group Ongaku including Tone and the musicians Kosugi Takehisa and Shiomi Mieko. Under the direction of Miyai and with design by architect Hayata Yasuhiro, Killer Joe's had its ceiling, walls, and pillars covered with silver vinyl, and illustrations by animator and designer Tanaami Keiichi were projected with slide and overhead projectors on motorized walls that moved up and down. Shūzō Azuchi Gulliver's Cinematic Illumination (1968–69), which premiered at the festival, featured 1,440 images projected over a 360-degree span with eighteen slide projectors, capitalizing on the unique space and its facilities. The main focus was a sequence of a moving male body shot at 16mm, blown up to 35mm, and film was cut up frame by frame in the form of slides, while other images, flashing on and off like holiday lights, showed close-ups of his face and body, the bustle of the city, and clippings from weekly magazines. Rather than in existing, conventional movie theaters, Gulliver presented his work at discotheques and clubs, and through his conceptual pieces and performances, reexamined various aspects of the environment surrounding film. This work explored the zone between photography and film and questioned what moving image media is by projecting twenty-four still images per second on a screen to create the afterimage effect of an illusion of motion, rendering this structure visible with a 360-degree screen. The "Intermedia Arts Festival Statement" is a manifesto Tone wrote for this event. Fluxus intermedia experiments, in the form of reperformances of John Cage, Nam June Paik, Higgins, and others, resonated with the newly emerging discotheques and underground culture, opening up new horizons beyond existing art forms.
Meanwhile, in February 1969, Akiyama, Yuasa, and Roger Reynolds organized Cross Talk / Intermedia with the sponsorship of the American Cultural Center, and filmmaker Stan VanDerBeek, Matsumoto, Iimura, Ichiyanagi, Takemitsu, and many other Japanese and American artists were invited to conduct spectacular media experiments. This sort of state-of-the-art, technologically mediated state capitalist cultural intervention and fragmentation reached a peak at Expo '70 Osaka, which lasted from March to September 1970. The progression of artistic maturation was inversely proportional to the broadly-defined Japanese avant-garde art movement which began to wane. "Does Art Exist for the Sake of Industrial Cooperation? Comprehensive Review of Cross Talk / Intermedia" (Geijutsu wa sangyō kyōryoku no tame ni aruka— Cross Talk / Intermedia sōhyō) was a text for Cross Talk written by Ishiko, which critiqued the current state of the Intermedia movement in Japan, originally led by independent artists, as having prioritized the expansion of modes of expression and aesthetic experimentation to such an extent that it was co-opted by industrial capital.
Another text, "Extreme Cinema" (Eiga no kyokuchihyōgen), was written by Satō Jūshin for Tanaami Keiichi and photographer Hara Eizaburō's collaborative book Kyozō mirai zukan [Illustrated book of imaginary tomorrow]. Introducing the concept of "Extreme Cinema," he discussed experimental films by underground artists such as Andy Warhol, Michael Snow, Tony Conrad, and Ōe Masanori, and contrasted them with art that had been co-opted by Expo '70 and industrial capitalism. In this context Satō actively introduced anti-Expo activities centered on the Zero Jigen [Zero Dimension] group and Expo '70 Destruction Joint-Struggle Group (Banpaku Hakai Kyōtō-ha) in the film journal Eiga Hihyō [Film criticism], of which he was the editor-in-chief. One of the most important texts summarizing Japanese avant-garde art of the 1960s was "Art Becomes Non-Art: The Collapse of the Contemporary in Art" (Hi-geijutsuka suru geijutsu—geijutsu ni okeru kindai no hōkai) written by Tone and focusing on the state of Intermedia in Japan. Through a comparison of the Intermedia Arts Festival, Cross Talk / Intermedia, and Expo '70, Tone critiqued the direction of large-scale events organized in a top-down fashion by the capitalist system and the state, while also examining existing experimental forms such as anti-art and environmental art in a historical context. In order to aim for a "non-art" of art-as-environment differing from both the artist-oriented and establishment-led models, Tone reexamined the possibilities of everyday artistic practice that were an intrinsic part of early Intermedia and preceding art movements, and advocated adhering to this mode of art. However, after Expo '70 Osaka, the growing power of the capitalist system and the state led to the hollowing out of expanded cinema and intermedia, while the revolutionary political fervor that peaked in 1968 also faded. Tone, Miyai, and many others moved their bases of operation overseas, while artists in Japan were forced to suspend their experimental cinematic and artistic activities.
Go Hirasawa