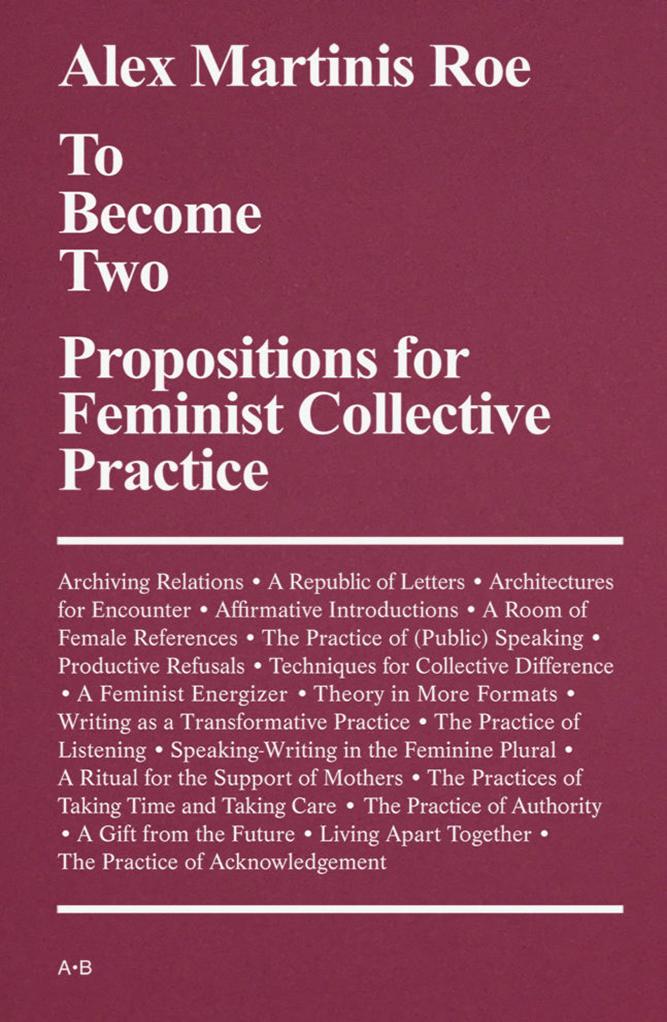 To Become Two: Propositions for Feminist Collective Practice offers a narrative of artist Alex Martinis Roe's research into a genealogy of feminist political practices in Europe and Australia from the seventies until today. These practices include those of the Milan Women's Bookstore co-operative; Psychanalyse et Politique, Paris; Gender Studies (formerly Women's Studies) at Utrecht University; a network in Sydney including people involved in the Sydney Filmmakers Co-operative, Feminist Film Workers, Working Papers Collective, and the Department of General Philosophy at Sydney University; and Duoda – Women's Research Centre and Ca la Dona, a women's documentation centre and encounter space in Barcelona. Drawing from their practices and experiences, Martinis Roe's research forms a proposal for a transgenerational approach to feminist politics. This is further developed as a practical handbook of twenty new propositions for feminist collective practice, which were formed in collaboration with a network of contributors through experiments with these historical practices.
Published in partnership with
ar/ge kunst; Casco – Office for Art; Design and Theory;
If I Can't Dance, I Don't Want To Be Part Of Your Revolution;
The Showroom
Alex Martinis Roe is an artist and researcher. She is a former fellow of the Graduate School at the University of the Arts Berlin, and holds a PhD from Monash University, Australia. She is currently completing her project To Become Two: a series of films, workshops, public events and a book, as a social history of the feminist practices which invented the concept of 'sexual difference', and collective experiments with this research through the sub-project Our Future Network. This project was co-commissioned as a series of solo exhibitions by If I Can't Dance, I Don't Want To Be Part Of Your Revolution (Amsterdam), Casco – Office for Art, Design and Theory (Utrecht), The Showroom (London) and ar/ge kunst (Bolzano) and has also been exhibited at Badischer Kunstverein (Karlsruhe). Parts of the project have been exhibited at, among others, Art Gallery of New South Wales (Sydney), Australian Centre for Contemporary Art (Melbourne), SlyZmud Gallery (Buenos Aires), Dienstgebäude (Zürich), Yvonne Lambert (Berlin), and Hessel Museum of Art (Annandale on Hudson, NY). She is Head of Sculpture at the Australian National University and co-leads the transdisciplinary working group FORMATIONS with philosopher Melanie Sehgal, which began within the framework of the Haus der Kulturen der Welt in Berlin in 2015.