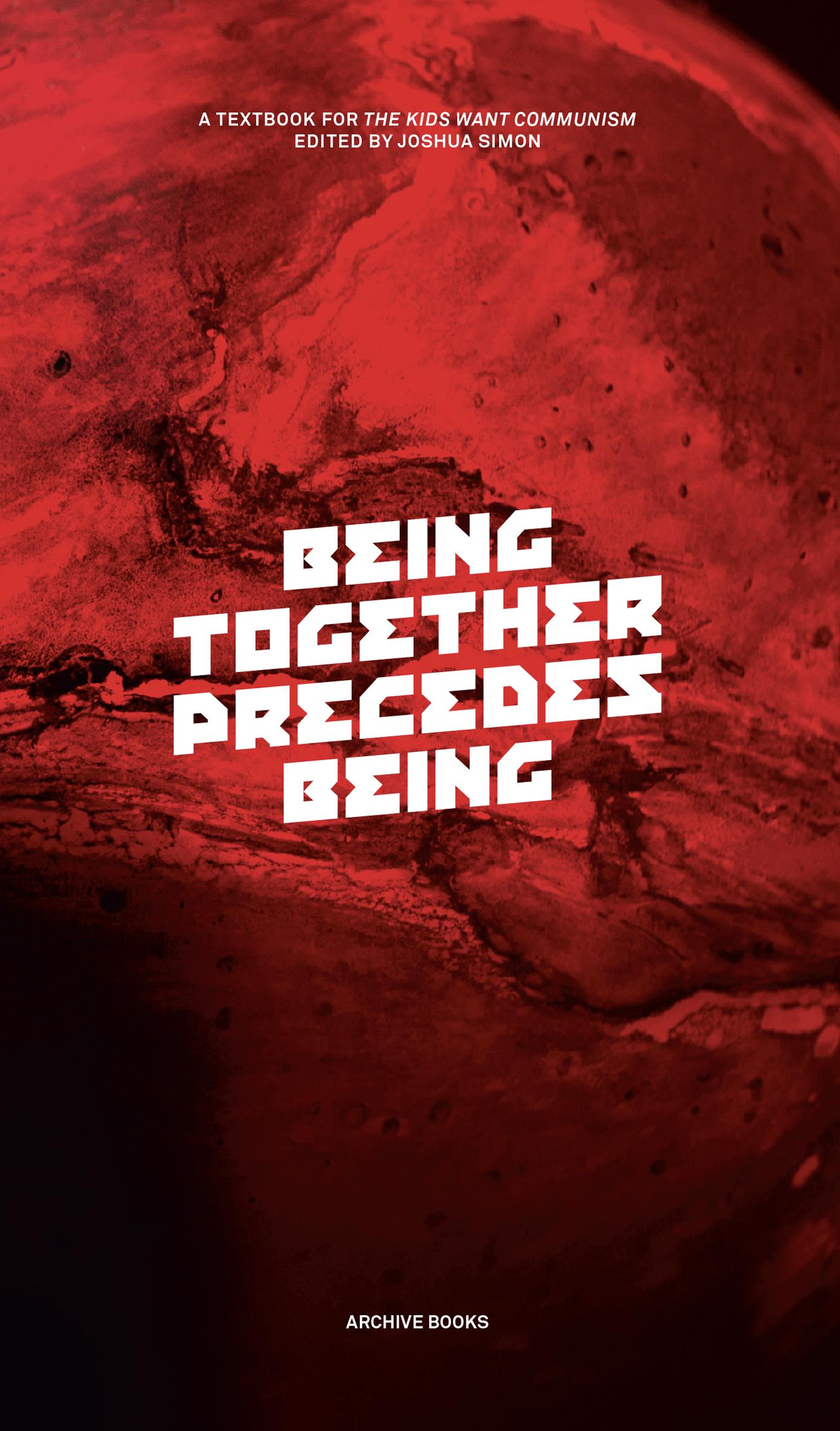 Specters are haunting the globe—the specters of anticommunism. From the European Union and its erosion to the disastrous "war of terror" and the destruction of the welfare state, from Wahhabism to neoliberalism, from debt economy to privatization, from game theory and disruptive innovation to cybernetics and the deployment of computerized surveillance/entertainment devices—all these anticommunisms are fighting one another, and they are now haunting us. What began with the implosion of real existing socialism almost thirty years ago comes full circle with the current collapse of the neoliberal arrangements that were then constituted.
Being Together Precedes Being offers a text book for the project "The Kids Want Communism," which was initiated towards the 99th anniversary of the Soviet Revolution of October 1917 as a series of exhibitions, symposiums and conferences, screening programs, publications and a summer camp. In this textbook, communism does not merely describe an "us versus them" relation, but also offers that we are becoming the future. This trajectory of communism runs parallel to us at every single moment and its guiding principle is that being together precedes being.
Being Together Precedes Being
Contributions by Bini Adamczak, Odeh Al Ashhab, The New Barbizon Group (Asya Lukin, Natalia Zourabova, Olga Kundina, Anna Lukashevsky, Zoya Cherkassky) Toy Boy, Diego Castro, Angela Dimitrakaki, Paul Eluard, Max Epstein and Yuri Primenko, FAMU Archives (Piyasiri Gunaratna, Nosratollah Karimi, Nabil Maleh, Krishma Viswanath), Stano Filko, iLiana Fokianaki, Agnes Friedrich and Ivonne Dippmann, Tal Gafny, Jonathan Gold, Irena Haiduk, Nir Harel, Ronny Hardlitz, Raana Harlap, Micah Hesse, Yota Ioannidou, Nikita Kadan, Jakob Kösten, Konstantinos Kotsis, Mati Lahat, V.I Lenin, MAKI Archives, Alelsandr Medvedkin, Ohad Meromi, Olaf Nicolai, Tamar Nissim, Antonis Pittas, Praxis School Archive, Yakov Protazanov, David (Rabino) Rabinovici, Oleksiy Radynski, Yorgos Sapountzis, Joshua Simon, Tereza Stejskalová, Ian Svenonius, Kuba Szreder, Piotr Szulkin, Pelin Tan, The Union of Soviet Artists (Vasil Artamonov, Dominik Forman, Michael Hauser, Alexey Klyuykov, Avděj Ter-Oganjan), Vladimir Vidmar, Vangelis Vlahos, Nicole Wermers, Tony Wood, Noa Yafe, Dana Yoeli and Hila Laviv.
English
Softcover
392 pages
ISBN 978-3-943620-82-5
Feel like reading it on your
own electronic device?
Archive offers a 1 year subscription to all its books' pdf.
You will be able to easily download
and read them anywhere you want to.