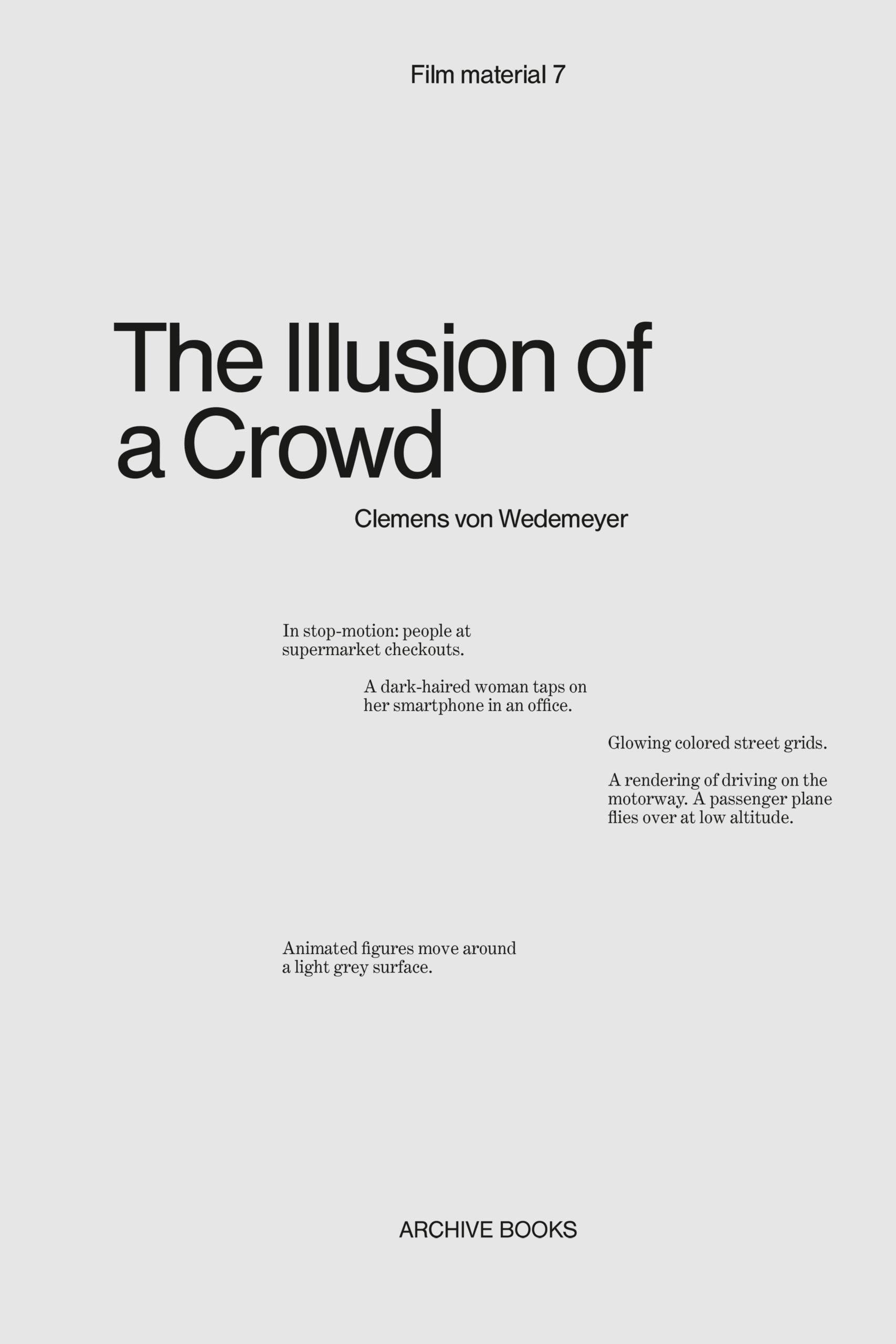 Film material 7 / In collaboration with Till Gathmann. Including the films Transformation Scenario, 70.001, and Faux Terrain, as well as a visual essay, a glossary and texts by Heike Geißler, Fanni Fetzer, and Franciska Zólyom.
"When I visited the Elias Canetti archive at the Zentralbibliothek Zurich, I was looking for manuscripts and sketches for his major work Crowds and Power (1960). I imagined that Canetti must have made drawings, as the behaviour of the various crowd types he identified was described in such detail. I hoped that these drawings would help me transfer the group behaviour he describes to virtual figures in an animated film.
The archive of manuscripts, arranged by Elias Canetti himself, was handed over to the Zurich library and contains the notes and sketches he completed during the development of Crowds and Power, a period of almost forty years. However, in this context I found no drawings — Canetti had only made graphic lists on various themes.
So where did Canetti's precise descriptions of the scenes come from?"
Clemens von Wedemeyer
The Illusion of a Crowd
Edited by Fanni Fetzer
and Franciska Zólyom
Conception by Fanni Fetzer,
Till Gathmann, Anna Jehle,
Clemens von Wedemeyer,
Franciska Zólyom
This publication was released on the
occasion of the exhibitions:
Mehrheiten – Majorities,
Galerie für Zeitgenössische Kunst Leipzig
July 13 – November 17, 2019 and
In Gesellschaft – Nella Società,
Kunstmuseum Luzern,
November 2 – February 9, 2020
Softcover, German, 136 pages
ISBN 978-3-948212-23-0
Clemens von Wedemeyer, born in 1974 in Göttingen, Germany, currently lives and works in Berlin and holds a professorship for media art at the Academy of Fine Arts Leipzig. The artist and filmmaker participated in group shows such as the 1st Moscow Biennale (2005), the 4th Berlin Biennale (2006), Skulptur Projekte Münster (2007), the 16th Biennale of Sydney (2008), dOCUMENTA (13) (2012), VOX contemporary image center (2016), 1st Riga International Biennial of Contemporary Art (2018) and the Chicago Architecture Biennial (2019 – 2020). He had solo shows among others at MoMA PS1, New York, ARGOS Centre for Art and Media, Brussels, the Barbican Art Centre, London, Frankfurter Kunstverein, Frankfurt, Museum of Contemporary Art, Chicago, Paço das Artes, São Paulo, MAXXI – National Museum of XXI Century Arts, Rome, Neuer Berliner Kunstverein, Hamburger Kunsthalle, GfZK Leipzig and Kunstmuseum Luzern. His works can be found in major collections such as The Museum of Modern Art, New York; Museum Ludwig, Cologne; Tate Modern, London.