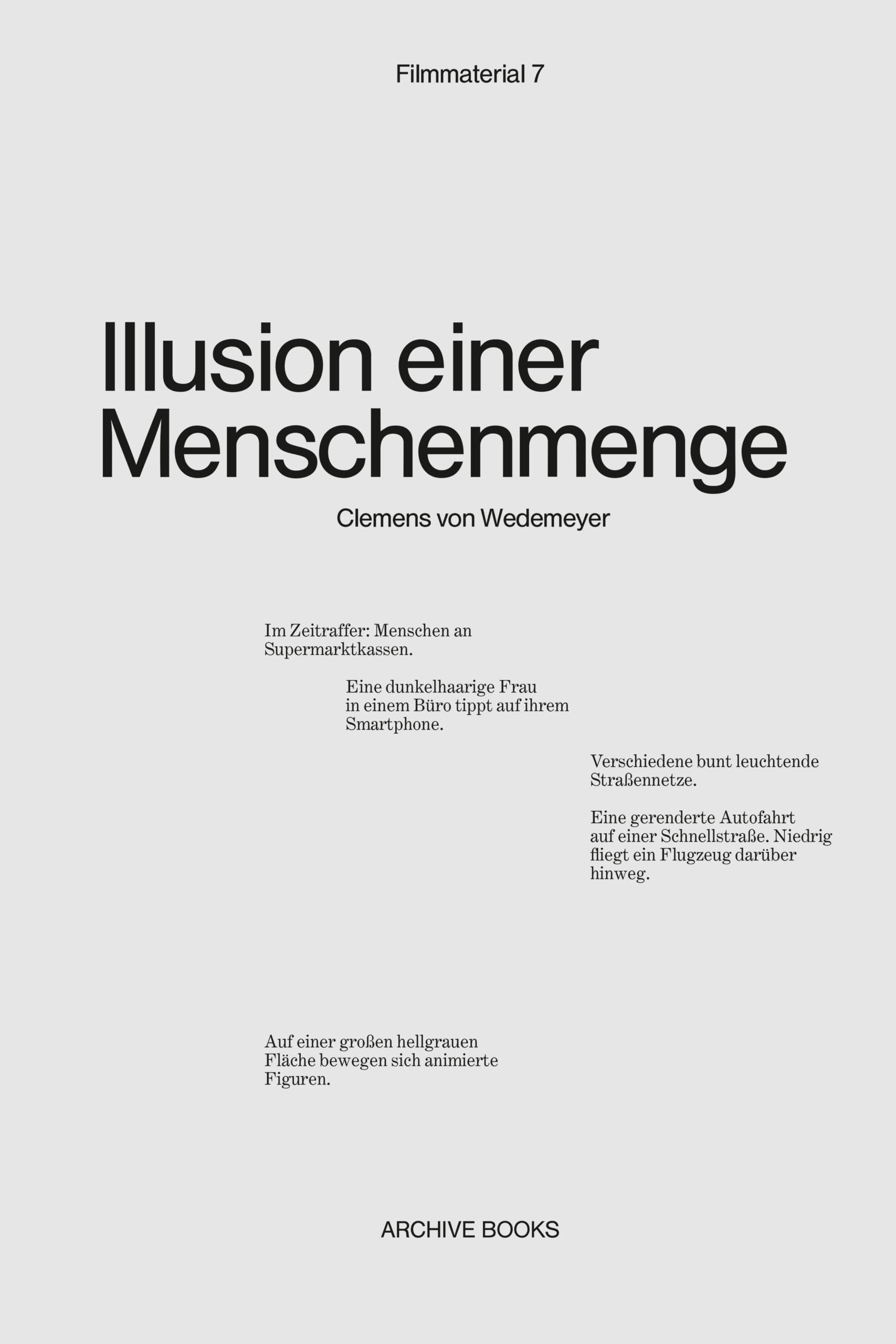 Filmmaterial 7 / In Zusammenarbeit mit Till Gathmann. Mit den Filmen Transformation Scenario, 70.001 und Faux Terrain, sowie einem Bildessay, Glossar und Textbeiträgen von Heike Geißler, Fanni Fetzer und Franciska Zólyom.
Als ich den Nachlass von Elias Canetti in der Zentralbibliothek Zürich sichtete, war ich auf der Suche nach Handschriften und Skizzen zu seinem Hauptwerk Masse und Macht (1960). Ich hatte mir eingebildet, Canetti müsse gezeichnet haben, so detailliert hat er das Verhalten der von ihm aufgestellten Massentypen beschrieben. Diese Zeichnungen sollten mir helfen, das von ihm beschriebene Gruppenverhalten auf virtuelle Figuren in einem Animationsfilm zu übertragen.
Die Handschriftensammlung war von Canetti noch selbst geordnet und der Zürcher Bibliothek übergeben worden. Hier finden sich Notizen und Entwürfe, die er in fast vierzig Jahren während der Entwicklung von Masse und Macht angefertigt hat. Zeichnungen habe ich in diesem Zusammenhang nicht finden können, Canetti hat lediglich grafische Listen zu verschiedensten Themen erstellt. Wie also kam Canetti zu seinen bildgenauen Szenenbeschreibungen?"
Clemens von Wedemeyer
Illusion einer Menschenmenge
Edited by Fanni Fetzer
and Franciska Zólyom
Conception by Fanni Fetzer,
Till Gathmann, Anna Jehle,
Clemens von Wedemeyer,
Franciska Zólyom
Diese Publikation erscheint anlässlich
der Ausstellungen: Mehrheiten – Majorities,
Galerie für Zeitgenössische Kunst Leipzig,
July 13 – November 17, 2019 und In Gesellschaft
– Nella Società, Kunstmuseum Luzern,
November 2 – February 9, 2020
Softcover, German, 136 pages
ISBN 978-3-948212-23-0
Clemens von Wedemeyer wurde 1974 in Göttingen geboren und lebt und arbeitet in Berlin. Er hat eine Professur für Medienkunst an der Hochschule für Grafik und Buchkunst Leipzig inne (Klasse expanded cinema). Der Künstler und Filmemacher nahm an internationalen Ausstellungen wie der 1. Moskauer Biennale (2005), der 4. Berlin Biennale (2006), Skulptur Projekte Münster (2007), der 16. Biennale von Sydney (2008), dOCUMENTA (13) (2012), VOX contemporary image center (2016), der 1. Internationalen Biennale für zeitgenössische Kunst in Riga (2018) und der Architekturbiennale in Chicago (2019 – 2020) teil. Einzelausstellungen hatte er unter anderem im MoMA PS1, New York (2006), im Barbican Art Centre, London (The Curve), MCA Chicago, Paço das Artes, São Paulo, MAXXI – National Museum of XXI Century Arts, Rom (2013), zuletzt im Neuen Berliner Kunstverein (2016), der Hamburger Kunsthalle und der GfZK Leipzig sowie im Kunstmuseum Luzern (2019). Seine Werke befinden sich in zahlreichen Sammlungen wie dem Museum of Modern Art, New York; Museum Ludwig, Köln; Tate Modern, London.