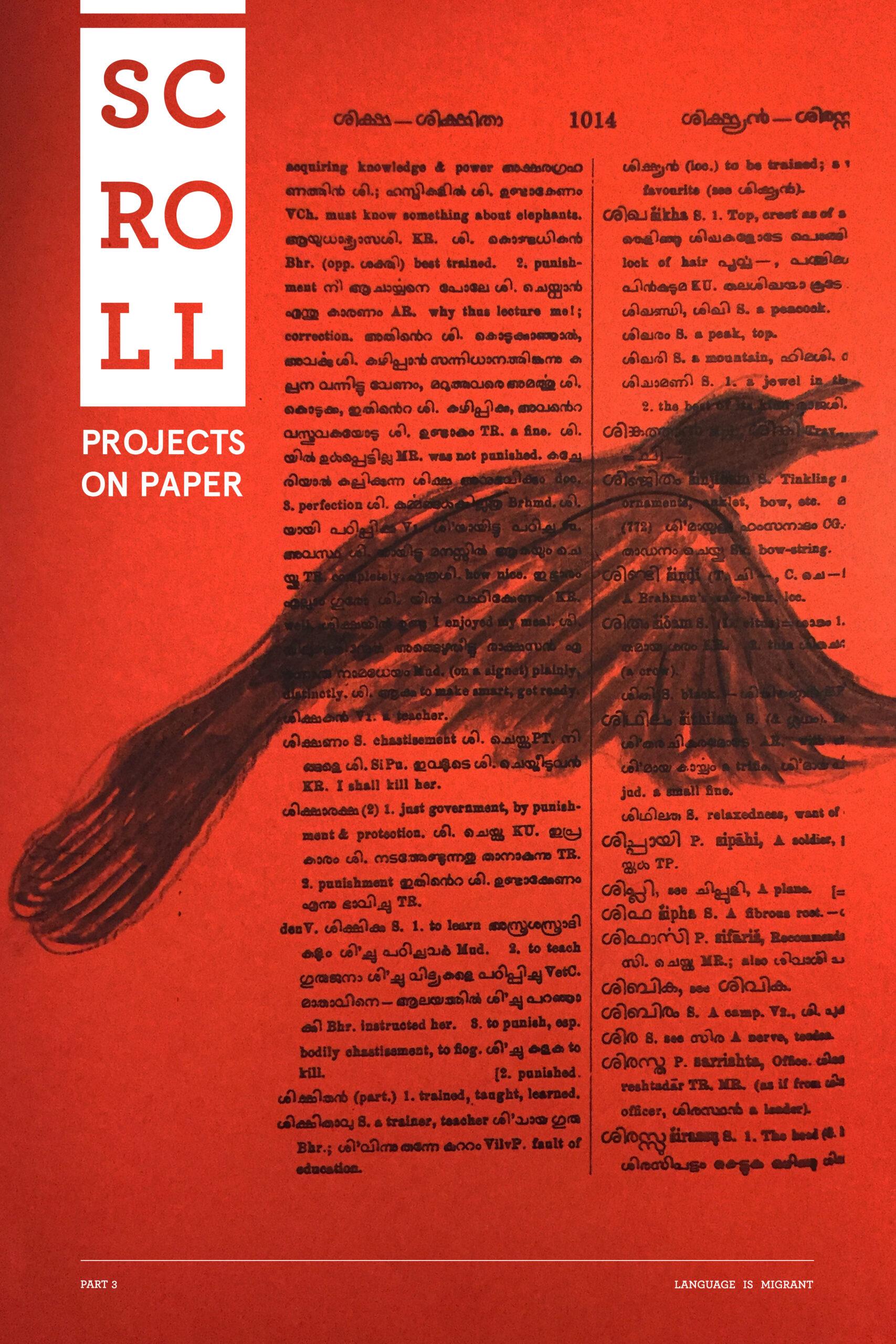 Cecilia Vicuña's liberatory text Language is Migrant interrogates the capacity of language within and through our wounded oral cultures and lexical histories. With her in mind, and emanating from the 2022 edition of Colomboscope festival, SCROLL also engages with the idea of language as a complex translator and migratory force, via the medium of print. We know from Benedict Anderson that print circulation was key to the beginnings of nationalism, as well as continued "borderisation", to use Achille Mbembe's term. We use this format to subvert these barriers, as languages and relationships to them melt, erupt and disrupt through our pages.
This issue of SCROLL approaches and tackles the porosity of language and its reconstructions through ideas and practice that cross and extend outwards from South Asia. We are grounded in this issue with a special contribution by philosopher Nikita Dhawan, whose cues on speech, silence and hegemonic norms of legibility contextualise these conversations. Entangled histories of language are showcased through the centering of lived experiences, be it Lucas Odahara's collaboration with Indrakanthi Perera through a negotiation of linguistic exchanges between Sinhala and Portuguese, Areez Katki's textual timestamps of Parsi identity, Sajan Mani & Antony Koothanady's troubling of Malayalam or Mythri Jegathesen's historical and close encounters with 'plantation Tamil'. 
We believe in language's capacity to form communities of care, opacity and nourishment, as marked by Rajyashri Goody's ongoing meditation on food cultures of Dalit communities in India, and Sarah Burney's literary friendship with the late artist Zarina. This issue is also a site for confronting difficult histories through non-hegemonic forms of representation via the vignettes offered by Naila Mahmood and T. Thajendran, and multi-geographical vernaculars of resistance, as expressed in the contributions of Sonal Jain and Angela Wittwer & Arham Rahman. In concert with Colomboscope's embrace of polyphonic tongues and dissipated memory worlds, we explore the possibilities of centring language as part of a restorative and partial archive, as well as a community, lost, recovered and in flux.
SCROLL Part 3: Language is Migrant
with support by
Natasha Ginwala, Anushka Rajendran and Colomboscope team
Edited by
Aziz Sohail & Syma Tariq
Designed by
Zahabia Khozema
Printed by
Print Express, Karachi
English
24 pages
28 x 42 cm