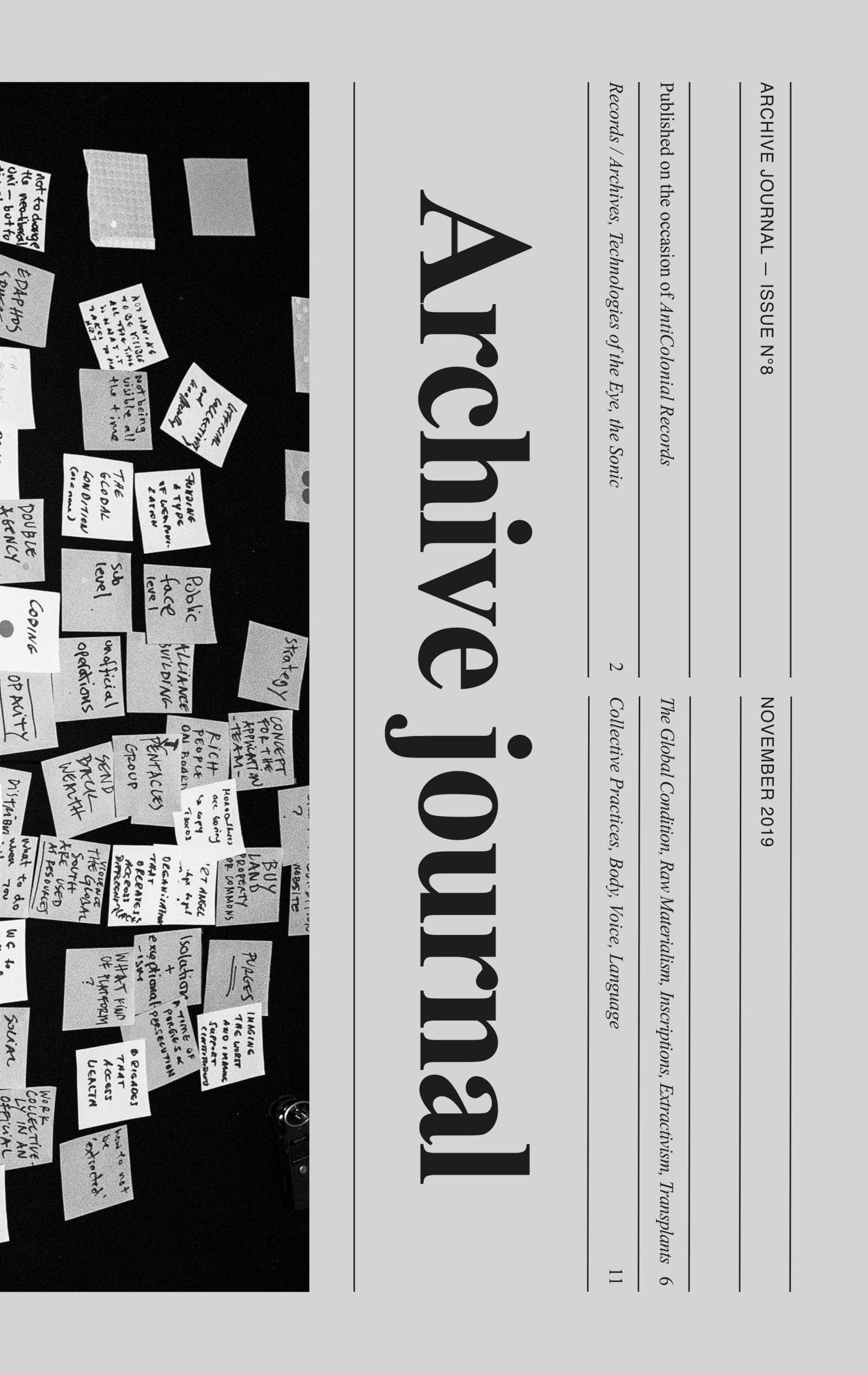 AntiColonial Records was a two-day workshop in the context of the five-year research program, AntiColonial Methods, designed by the Critical + Creative Social Justice Studies Excellence Research Cluster (Critical Racial and Anti-Colonial Studies Thematic Network, Social Justice Institute, UBC). This broader project gears to gather artists, activists, curators and academics whose practices raise the question/ing of existing formulations of universal justice by attending to the reverberations of colonial and racial violence—such as the current refugee crisis and the postcolonial conflicts behind them—in Europe and the postcolonies in Africa, the Middle East, the Americas, Asia, and the Pacific. The encounter provided the space for interrogations of the onto/epistemological grounds of the colonial (violent-juridical) and racial (formal-symbolic) appropriation of land and body. The objective of the program was to contribute to the assemblage of research-based critical and compositional tools apt to delineate a transformative theory of justice. 
The AntiColonial Records Workshop was planned as a preparatory encounter to explore the possibilities of establishing partnerships with collaborators, which involve both knowledge creation and knowledge mobilization elements. This encounter was designed to facilitate a collaborative exploration of the potential of the creative work to disrupt ingrained ideas and representations through affecting the senses and the imagination. The AntiColonial Records Workshop proposed to the participants a particular collective working structure including the formation of working groups, presentations, screenings and performances, to promote a space for exploring the radical potential of work that sits at the intersection of art, activism, and critical scholarship. The participants were asked to present and discuss their practice in dialogue with the working group. 
'What becomes possible after the poet hijacks the terms of justice and opens up their potential for re-signification?'
Denise Ferreira da Silva 
Phanuel Antwi, Filipa César, Eric de Bruyn, Alima de Graaf, Mustafa Emin Büyükcoşkun, Denise Ferreira da Silva, Chiara Figone, Jorgen Gario, Natasha Ginwala, Raphaël Grisey, Sabine Groenewegen, Emma Haugh, Louis Henderson, Suza Husse, Bettina Malcomess, Olivier Marboeuf, Diana Mccarty, Doreen Mende, Felipe Meres, Jota Mombaça, Arjuna Neuman, Bonaventure Soh Bejeng Ndikung, Volker Pantenburg, Camilla Rocha Campos, Anjalika Sagar, Viktor Sommerfeld, Krista Bell Stewart, Wu Tsang, Wendelien van Oldenborgh, Susanne Winterling, Marika Yeo, Vivian Ziherl.