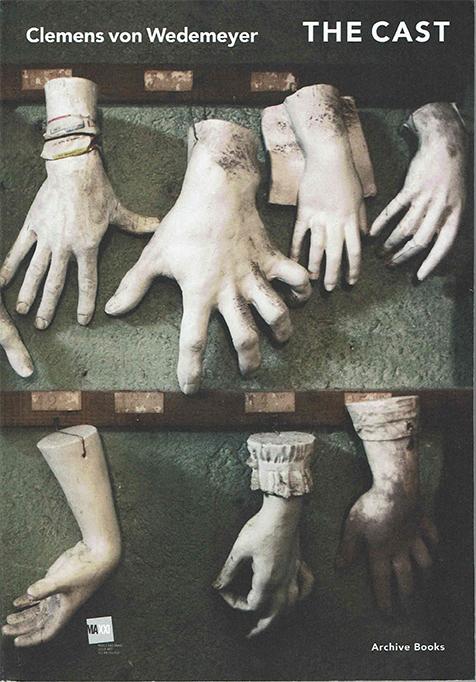 Film material 5 / This book was published on the occasion of Clemens von Wedemeyer solo show at MAXXI in Rome. A film exhibition that discusses memory, the mechanisms of cinematographic fiction and the themes of contemporaneity. Props and extras referencing the giants of the Rome film industry; the relationship between statue and actor, but also between these two and the spectator's gaze; the history of film and its hidden aspects; the political struggles of the cultural sector workers of yesterday and today; the Greek myth of rebirth after destruction — these are the themes of The Cast.
The show is composed of three new works conceived for the museum ( Afterimage; The Beginning: Living Figures Dying and Procession) and an installation composed of diverse forms and sculptures (Remains: The Myth of Deucalion and Pyrrha). The title The Cast alludes to diverse meanings including the production of sculptures (the casting of forms), the process of selecting actors (casting) and the gesture of throwing (casting a stone). The exhibition is born out of the research conducted by von Wedemeyer over the last year spent in Rome and deals with a number of its symbolic, historic and contemporary sites such as the Cinecittà Studios and the Teatro Valle Occupato.
Design by Archive Appendix
Softcover, English and Italian, 136 pages
ISBN 978-3-943620-11-5
Clemens von Wedemeyer, born in 1974 in Göttingen, Germany, currently lives and works in Berlin and holds a professorship for media art at the Academy of Fine Arts Leipzig. The artist and filmmaker participated in group shows such as the 1st Moscow Biennale (2005), the 4th Berlin Biennale (2006), Skulptur Projekte Münster (2007), the 16th Biennale of Sydney (2008), dOCUMENTA (13) (2012), VOX contemporary image center (2016), 1st Riga International Biennial of Contemporary Art (2018) and the Chicago Architecture Biennial (2019 – 2020). He had solo shows among others at MoMA PS1, New York, ARGOS Centre for Art and Media, Brussels, the Barbican Art Centre, London, Frankfurter Kunstverein, Frankfurt, Museum of Contemporary Art, Chicago, Paço das Artes, São Paulo, MAXXI – National Museum of XXI Century Arts, Rome, Neuer Berliner Kunstverein, Hamburger Kunsthalle, GfZK Leipzig and Kunstmuseum Luzern. His works can be found in major collections such as The Museum of Modern Art, New York; Museum Ludwig, Cologne; Tate Modern, London.
Feel like reading it on your
own electronic device?
Archive offers a 1 year subscription to all its books' pdf.
You will be able to easily download
and read them anywhere you want to.